How to Schedule Service
Call, text, chat, email or use Online Booking
(text, chat & email are available M-F 9:00am-5pm)
You'll get a text message:
To confirm your appointment.
When we're on our way.
When job is complete.
Job Complete
We can text/email you a receipt when job is done
Business Safes Safes we sell
We sell Amsec safes - amsecusa.com
---
Deposit Safes
DSF2014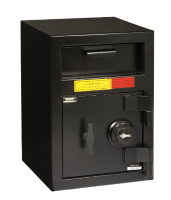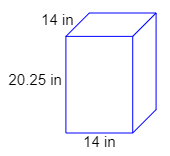 79 lbs
1/2" thick solid steel door
Three 1" bolts
Electronic Keypad:

Call for Price

Mechanical Dial:

Call for Price
TB0610-1T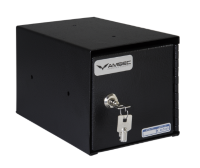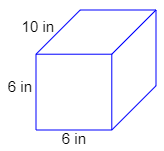 6 lbs
Drop slot on top edge for cash and checks
Tubular key for higher security
Bolt holes on 4 sides for easy mounting

Call for Price
---
Burglary & Fire Safes
Option for mechanical dial or electronic
BF Series:
UL Listed for 1 hour in 1700°F fire (inside under 350°F)
UL Listed for "B" RSC Burglary Protection
1/2" solid steel plate door, 1/8" outer and inner steel plates
AM Series:
UL Listed for 30 minutes in 1200°F fire (inside under 350°F)
1/4" solid steel plate door, 7/64" steel body
---
2-hour UL Fire Safes
2 different sizes
UL Certified 2-hour fire protection
Electronic Keypad Lock
9v External Battery
15 minute lock-out after 4 incorrect entries
UL1511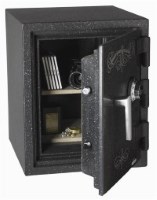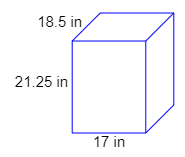 246 lbs
Electronic Keypad

Call for Price
UL1812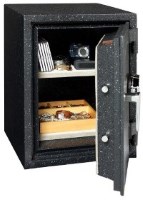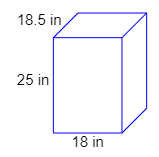 272 lbs
Electronic Keypad

Call for Price
---
Lock Options
---
What fire protection means
Underwriters Laboratories (UL) certifies that the safes have been independently tested to meet their fire protection criteria.
UL-350 Fire Endurance Test (which these safes have) performs these tests:

Raise the exterior heat to 1200°F within 8 minutes.
Maintained 1200°F to 1700&def;F for 1-hour test, or 1200°F to 1850&def;F for 2-hour test
Interior of the safe stayed below 350°F for the entire time.

Many manufacturers will say they have tested their fire safes but without a UL label you have to trust their rating. UL rated safes give you the peace of mind that the safe has been independently tested to work as advertised.
Paper burns at 450°F, DVD's, USB drives, etc MAY survive at 350 degrees but you may want to consider a UL-150 Data Safe if this is your primary concern. They start at about $500 and must be special ordered.
More Information