How to Schedule Service
Call, text, chat, email or use Online Booking
(text, chat & email are available M-F 9:00am-5pm)
You'll get a text message:
To confirm your appointment.
When we're on our way.
When job is complete.
Job Complete
We can text/email you a receipt when job is done
DND (Do Not Duplicate) Keys & Restricted Keyways
Do Not Duplicate
DND keys are the easiest and cheapest way to add a low level of key control to your business.
DND keys have a "neutral" head so that it doesn't "look" like a normal Kwikset or Schlage key. This makes is slightly harder for untrained staff at hardware stores, etc to identify the key type.
Our DND keys have our company logo and the words DO NOT DUPLICATE stamped prominently on them.
If someone brings a DND key into us then we verify that the person is authorized to make copies.
DND keys are *not* illegal for anyone to copy, some places like hardware stores and big box stores will still make copies, but some will refer the person back to us.
DND keys only cost a bit more and you can keep your existing locks. Most DND keys are $4 each.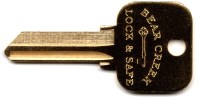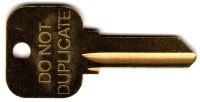 DND Verification Procedure
We take our DND keys seriously. Every time anyone wants to get a copy of a DND key we do the following:
Check the list of authorized people that we store in our computer.
If not in the computer we will contact the store manager or owner to get authorization on the spot. We can only call phone numbers we already have in our records or that are found on the company website or Google Maps. We cannot call phone numbers provided by the customer because we cannot verify who we are calling.
If we cannot verify the person is authorized to make copies then we will NOT make copies until we get that authorization.
We verify the person's name by checking their photo ID.
Every key copy we make is logged for what company, who got the copies, how they were authorized, and how many keys were copied.
Restricted Keys
The next level up in security is changing your locks to a Restricted Keyway. Restricted Keyway's use parts that are not available for non locksmiths' to buy, so places like hardware stores and big box stores cannot get them. This means that you must go to a locksmith to get copies made.
Our primary restricted keyway is called the "Clark" key. We verify authorization the same way as we do DND keys but we additionally track every individual key made and verify that the person is authorized for that specific business.
Clark keys cost $5 each but you also have to replace your locks which is $35-$50 per keyhole. If you do not currently have commercial door locks then you may need to upgrade those as well which run $50-$120 per lock.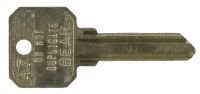 More Information